Leadership and Management
Once you're working in social care, there are lots of opportunities to progress into leadership and management roles.
Team leaders and supervisors
Team leaders and supervisors work in all types of care settings. You will use the skills and experience you have gained as a care or support worker to mentor and develop other team members. You will also have more responsibility for the delivery of care at your organisation. Daily tasks could include:
supervising team members to ensure they are delivering high quality care in the safest way
conducting inductions and appraisals for your team
developing care plans which outline the care and support individual clients need
working closely with professionals from other organisations to ensure the people you and your team look after get the support they need.
Managers
Different social care providers will have different levels of management within their organisations. Smaller care settings may have team managers or deputy managers who support the Registered Manager with the day-to-day running of the establishment, including:
ensuring standards of care are maintained
ensuring that the service safely plans staffing levels and comply with legislation and regulatory requirements
undertaking care assessments of people needing care and support
helping the service to recruit and develop new care workers, supporting, supervising and performance managing them
organising or delivering training
Larger companies may also have managers to oversee the running of a group of residential settings or regions where they deliver care.
Registered Managers
All social care organisations providing services such as personal care and residential or nursing accommodation are regulated by the Care Quality Commission (CQC). These care providers must have an appointed person registered with the CQC who is responsible for the day-to-day management of the care that is being delivered. This person is the Registered Manager.
The role of a Registered Manager is diverse and challenging, but also extremely rewarding. Not only are they responsible for the people in their care, they also provide support to relatives and leadership to staff. They are accountable for the daily activity carried out by the organisation and have a legal responsibility to ensure all relevant regulations are adhered to.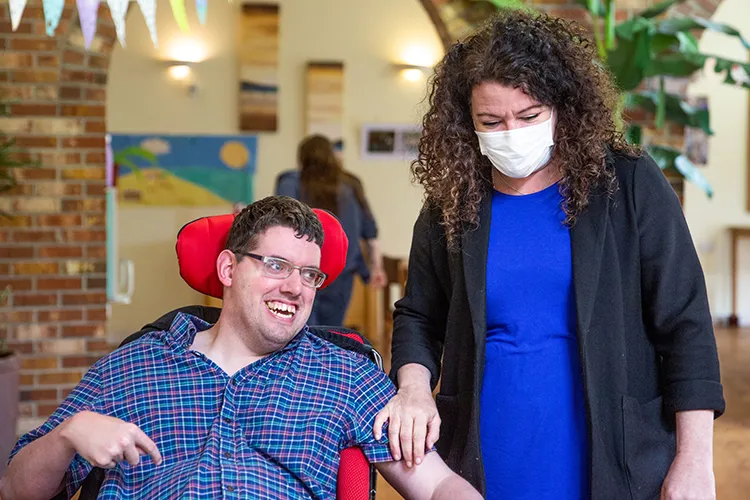 Becoming a team leader or Registered Manager
Senior leaders in care organisations have usually progressed from positions within the care sector because they have relevant experience and proven skills, such as:
teamwork
the ability to solve problems
good understanding of policies and procedures
willingness to learn
However, leadership skills from other sectors are transferable and will help you to progress once you've gained sufficient experience working in social care.
There are several qualifications that will help you to progress into leadership and management roles. Many social care employers will support you to study higher level diplomas or apprenticeships to formalise your skills and knowledge whilst you're working.
Kat Johns – Registered Manager, Trelawney Care
Kat finished school aged 16 with various GCSEs (all good grades Bs and Cs) but she wasn't sure what she wanted to do. She went to college to study an NVQ in hospitality including silver service and found employment in various catering roles in local hotels.
After several years, she found the seasonal nature of hospitality work didn't meet her needs as a parent and she started to look for full time work elsewhere. Aged 22, she joined a local domiciliary care agency – a decision she has never regretted. At the time, she didn't think she had any relevant experience but in reality, as a mother and being responsible for a household, she had all the right skills for a career in social care.
She quickly completed an NVQ Level 2 and within 3 years started her Level 3. As she began to take on more responsibility as a senior carer, she also undertook more training including a "train the trainer" qualification. She started delivering training to her colleagues and supported their growing knowledge through a buddy system.
Some years later she completed a Level 3 qualification in Management and spent 12 months working in other social care settings to broaden her skills and understanding. She spent some time in residential care and gained experience providing end of life care. She returned to domiciliary care in a supervisory role and, from there, progressed into management via an apprenticeship.
Kat loves every aspect of the Registered Manager's role. She enjoys being with and helping people. She understands the need to nurture the staff as she would the clients and still enjoys occasionally going out to provide face to face care. Kat knew University was not for her, despite her grades and ability, and is pleased to have found a career that allows her to work and study simultaneously in a role where she can make a real difference.