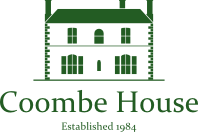 Coombe House
About Coombe House
Forget everything you think you know about Care Homes, Coombe House is different. It looks like your own home, comfortable and familiar. Open the door and you'll hear singing, laughter. You'll see vegetables being prepared for lunch, cakes being baked.
On a warm day, you'll find us in the garden, with our dogs (we are registered with the Cinnamon Trust), or feeding our chickens, picking apples in the orchard.We have no set routine anyone must follow, every day is different. Our people can make choices – when to get up and when to go to bed, what to wear, where to sit, what to do to pass the time of day, where to eat meals, what to eat, which visitors they do or don't want to see, which daily paper they might like to read. The doors of our home aren't locked and our beautiful gardens are there to enjoy.
We don't wear uniforms. There's no "them and us". We work together andand eat together. We choose our staff carefully. They have to be special. The training we give them means the staff team is excellent. We were proud to be recognised as a Dementia Care Matters Butterfly Service level one, in 2019.
We were thrilled to receive an Outstanding from CQC in 2018.
Service types
Care Home