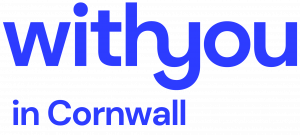 We Are With You
About We Are With You
With You is a charity providing free, confidential support to people experiencing issues with drugs, alcohol or mental health.
We work with people on their own goals, whether that's staying safe and healthy, making small changes or stopping an unwanted habit altogether.
We give people support in a way that's right for them either face to face in their local service, community or online.
Areas covered
Central Cornwall
North and East Cornwall
West Cornwall

Service types
Other Community-based Services

Contact us We Are With You